11. Save your coins – literally. Putting aside just 50¢ a day over a year will get you almost halfway to an emergency fund. Check with your bank or credit union, and research apps that offer programs that round your purchases up to the nearest dollar and put the difference into a separate savings account.
12. Use the 24-Hour Rule. Avoid purchasing expensive or unnecessary items on impulse with a self-imposed 24-hour rule. For any non-essential item, wait 24 hours before purchasing. It's perfect for online shopping where your items can simply be added to your cart to purchase later.
13. Treat yourself, but use it as an opportunity to save. Match the cost of your nonessential indulgences in savings. So, for example, if you splurge on a smoothie while out running errands, put the same amount into your savings account.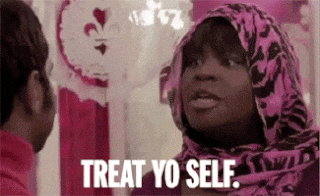 14. Calculate purchases by hours worked instead of cost. This mental math tactic really helps you to #ThinkLikeASaver. Take the amount of the item you want to purchase and divide it by your hourly wage. For example, if you're considering a $50 pair of shoes and you make $10 an hour, ask yourself if those shoes are worth working for five hours. Sometimes they are, sometimes they won't be.
15. Unsubscribe. Avoid temptation by unsubscribing from marketing emails and texts from the stores where you spend the most money. By law, each marketing email is required to have an unsubscribe link, usually at the bottom of the email or you can reply to any text with STOP, and that should opt you out of their list.
[Sassy_Social_Share]